FEATURED E-SUITE PARTNER: URBAN BUSINESS SUPPORT
Today we want to highlight one of our Featured E-Suite Partners, Urban Business Support, a non-profit organization based in Washington dedicated to supporting women and minority-owned businesses.
Oliver Scott, is the Executive Director of Urban Business Support. Their mission is to provide business plan training and financial assistance to small businesses. Urban Business Support firmly believes that investments in low-income communities should benefit the people who live and work there.
"Our vision is development without displacement. We believe that investment in low-income communities should come to the benefit of the people who live and work there. And our mission is to provide business plan training to businesses in gentrifying neighborhoods. We also provide financial assistance in the form of grants to these business owners." – Oliver
THE JOURNEY OF BUILDING AN ORGANIZATION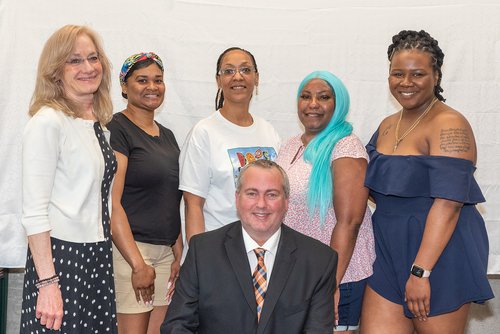 Urban Business Support has been our E-Suite Partner since 2018. Oliver recounted his longstanding relationship with Centro Community Partners, having known Arturo Noriega, Founder and CEO of Centro since the organization was founded.
He shared how Urban Business Support started using Centro Business Planning App and our curriculum to provide comprehensive business plan training to their entrepreneurs. The partnership with Centro played a crucial role in getting Urban Business Support off the ground, providing them with guidance and materials.
"I started doing business plan training, and I knew about the Centro Business Planning App. I immediately went to Arturo and Naldo to talk about it, as I knew that I wanted to use the app. So when I decided to start an organization, I immediately contacted Centro first. Otherwise, I didn't know of anybody else that I wanted to use for the curriculum, and I didn't want to design my own, so Centro provided the perfect solution for it, the Entrepreneurship Suite. And thanks to that I was able to start this organization." – Oliver
UNLEASHING ENTREPRENEURIAL POTENTIAL
Urban Business Support primarily focuses on serving women and minority-owned businesses in transitioning neighborhoods. Oliver acknowledges the challenges faced by entrepreneurs in these communities, particularly in accessing capital. To address this, Urban Business Support initiated a grant program to offer financial assistance to entrepreneurs who are often ineligible for traditional loans. They offer $5,000 to the best business plan among their graduates. This financial support not only helps entrepreneurs overcome funding barriers but also provides them with the necessary resources to thrive and succeed in their business ventures.
Urban Business Support is dedicated to empowering entrepreneurs and annually conducts twelve boot camps and four entrepreneurship programs with Centro's curriculum. The bootcamps, designed to be intensive and time-efficient, provide participants with a condensed version of the business plan training using the Centro Business Planning App. On the other hand, the entrepreneurship programs offer a more comprehensive curriculum, equipping participants with a deeper understanding of various aspects of business development.
Since its foundation, Urban Business Support has successfully trained an impressive cohort of approximately 300 entrepreneurs. "My first goal was to train 100 entrepreneurs, and we made it to 75. Our second year, we did really well, training about 160."
In the current fiscal year alone, 70 entrepreneurs have already benefited from Urban Business Support's transformative programs. This demonstrates the organization's commitment to fostering a thriving entrepreneurial ecosystem and empowering individuals to achieve their business goals.
EMBRACING CHALLENGES AND BUILDING TOWARDS FUTURE GOALS
Despite their achievements, Oliver acknowledged the challenges faced in maintaining referral partnerships, which resulted in a slight decline in program participation. Oliver remains resolute in his efforts to restore these partnerships and fulfill their objective of training 250 entrepreneurs for this fiscal year. Oliver emphasized that Urban Business Support grants of $5,000 to award the most exemplary business plan from their graduating entrepreneurs, providing a powerful incentive for entrepreneurial success.
Oliver also emphasized that the support from Centro Community Partners, especially through their app and curriculum, played a vital role in Urban Business Supports success. Centro's curriculum and support enabled Urban Business Support to secure their potential for positive impact. Oliver also shared that he has recommended Centro Entrepreneurship Suite to other organizations, recognizing the value it offers in empowering entrepreneurs.
Urban Business Support, under the leadership of Oliver Scott, has made significant strides in empowering entrepreneurs in gentrifying neighborhoods. Through their partnership with Centro, they have been able to provide valuable business plan training and financial assistance, helping entrepreneurs realize their dreams while contributing to community development. With their commitment to inclusive growth and dedication to their mission, Urban Business Support continues to create a lasting impact in the communities they serve.
"If it wasn't for Centro, I wouldn't have been able to get the organization started. The Centro Business Planning App is amazing, it covers the basics of a business plan, and we're able to do it in a Bootcamp in just one day. If it weren't for the App and for Centro's curriculum we wouldn't be where we are today." – Oliver Scott
If you want to learn more about how we can also help your organization, please contact us at esuite@centrocommunity.org. We are also happy to answer any questions about our current curriculum, learning and teaching tools, and the support we provide to organizations!