CENTRO PARTICIPATED IN THE U.S. DEPARTMENT OF STATE'S INTERNATIONAL VISITOR LEADERSHIP PROGRAM
We are thrilled to share that Centro Community Partners participated in the U.S. Department of State's International Visitor Leadership Program (IVLP) on Entrepreneurship and Small Business Development last week, April 18-20, 2023.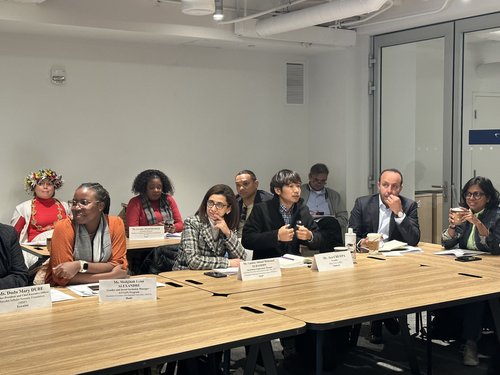 This program brought together 20 emerging leaders from 19 different countries (Cuba, Curacao, Egypt, Eswatini, Ethiopia, Haiti, India, Italy, Jordan, Lebanon, Morocco, Nepal, Nigeria, Niue, Philippines, Saudi Arabia, Sri Lanka, Thailand, and the Kingdom of Tonga) to explore different funding options available to startups and small businesses and to learn about how American organizations assist underserved communities with access to tools and entrepreneurial education for entrepreneurial growth.
We were honored to have three of our team members, Arturo Noriega, Founder and CEO; Lelsy Arellano, Community Engagement Lead; and Luisa Chinchilla, Associate, present in this program. During the program, they had the opportunity to showcase Centro's mission and share our success stories with the global leaders.
Arturo shared Centro's social justice story and mission of promoting economic development, access to capital, and building thriving communities through entrepreneurship, as well as insights from his book "In Pursuit of A Noble Cause". Lelsy presented the Centro Business Planning App and curriculum, and Luisa presented our entrepreneur success stories and led an activity on the Centro Business Planning App.
Our team's participation in this program showcased our community impact and exchange ideas from our international peers. Presenting Centro Community Partners in the global leadership program helps to share our innovation, vision, and methodology to building better entrepreneurship ecosystems that address race and equity disparities. Our Entrepreneurship Suite (E-Suite) is one way we help other non-profits build their capacity by sharing our training methods, technology, and curriculum.
At Centro, we believe that every individual should have access to the resources and support they need to start and grow their business to achieve financial stability and economic well-being. Our participation in the IVLP program reinforced our commitment to this mission and provided us with valuable insights and inspiration from around the world.
We extend our deepest gratitude to the U.S. Department of State and Global Ties for this incredible opportunity to connect with global leaders and social innovators. We are committed to empower underserved communities through entrepreneurship and look forward to collaborating with our international peers to create positive change in the world.