We are excited to share a high level summary of our work during 2022.
In addition to summaries of entrepreneurs served, the Centro Business Planning App, access to capital and one-on-one assistance, you can also see an overview look at our impact report here.
ENTREPRENEURS SERVED
In 2022, 467 entrepreneurs attended our programs, 356 of whom graduated. We had a total of 47 programs in English and Spanish, from which 27 were Bootcamps, 16 were Basic Entrepreneurship programs, and 4 were Advanced Entrepreneurship Programs. Learn more about our entrepreneurs and their success stories here.
ACCESS TO CAPITAL
Thanks to the support of the Centro Capital Hub, last year we helped small business owners access $1,464,500 to start and grow their businesses.
We helped provide access to 70 Kiva loans for a total of $684,000 through our Alameda and San Francisco Kiva Hubs. We also helped 13 entrepreneurs access $80,000 in grants, as well as 5 entrepreneurs access $700,000 in larger small business loans.
ONE-ON-ONE ASSISTANCE
In 2022 we provided 719 hours of 1-on-1 assistance to 237 entrepreneurs. The majority of entrepreneurs were located in Oakland & Alameda County (37%), followed by San Jose and Santa Clara County (21%), Stockton and San Joaquin County (14%), other Bay Area Counties (10%) and other locations (18%).
CENTRO BUSINESS PLANNING APP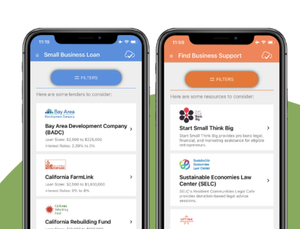 In 2022, we continued our work on improving the Centro Business Planning App, and we released an important app update. With the latest version of the app, entrepreneurs can now see local lenders and resources on the app in multiple languages. They will see resources that offer support in their language at the top of the list and other options that might not offer in their languages below.
Also, entrepreneurs can now update their email addresses if something changes or if they had a typo when they originally created their accounts. As entrepreneurs sign up for and use the app, they are asked to validate their email to ensure that their Business Plans and the emails connecting them to resources are sent to the right place.
We also released an App Demo video, were entrepreneurs and organizations can see how easy it is to use the app and all the features it offers, from helping entrepreneurs create their Business Plans to connect with local organizations that can help with funding and business resources.